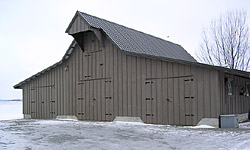 New Miller timber frame barn.
My final day in Ohio was a visit to the Andy, Johnny and Aaron Miller timber framing enterprise (Oak Bridge Timber Frames) at Loudonville. That visit confirmed that, to Chuck's delight, timber framing is alive and well in Ohio. The Millers were completing a heavy oak house frame that will be raised this spring.
I've included several photos of barns seen along the highways. One has a huge and unique hay hood; the other is a tobacco brown beauty seen by millions of travelers along the PA Turnpike at Bedford.
| | |
| --- | --- |
| Unusual hay hood barn. | Everyone's favorite. |
I wish to thank Chuck Whitney for organizing this educational private tour to a few of the many noteworthy central Ohio barns that he has surveyed. Chuck has helped tell their stories and hopefully they will be saved and appreciated as the trophy buildings they are for future generations of Ohioans.
Now nearing 86-years of age Chuck, ever the optimist says, "I am going for 100, then I plan to retire and write my book A Walk through the Woods of Time. Stick around and I will sell you a copy in 2019, O.K.?"
Posted April 12, 2004