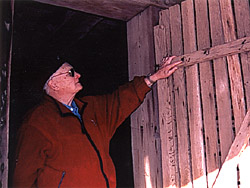 Charles Whitney inspecting the White Barn.
Tuesday, February 3rd was one of those days when you want to stay in bed — a cold rain, almost sleet, falling on icy streets under a gray sky. Fortunately the rain ceased and the gray skies didn't deter us from visiting another selection of barns south of Columbus at Lancaster, Pleasantville and Baltimore.
Interesting to this Civil War buff is that tiny Somerset is the home of Phil Sheridan while nearby Lancaster is the home of William Tecumseh Sherman, after Grant, the two most prominent Union generals.
The Tim and Kathy White barn sits at the end of a long upward winding drive with a house dating from 1845. The barn, about circa 1830, is a double forebay and features massive 40' oak log floor joists hewn flat on two sides that cantilever over the sides to support the forebay sill. The timbers are unusual as they have been smoothed with a goose wing broadaxe.
Tim and Kim Hicks have three very old barns as well as a smokehouse and summer kitchen near the great old farmhouse.We carefully inspected the log crib barn that Chuck dates to the beginning of the 19th century. This is constructed of two approximately 30' square cribs of huge notched oak logs hewn flat on two sides. These extend upwards 12-14' and were connected by beams to form a driveway. The roof system is supported by posts from the cribs.
| | |
| --- | --- |
| Massive oak logs of Hicks crib barn. | Hicks oak crib barn. |

Chisel etchings at the Hicks barn.
We were intrigued by several etchings made with a sharp chisel. The photo shows a faint etching of several buildings, complete with their framing patterns that are still standing on the farm; another etching is of a small sailing boat. Vernacular art produced during a lunch hour? We can only guess.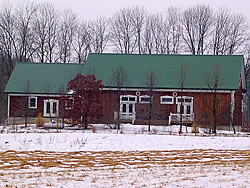 Stitzlein Barn, Baltimore, OH.
The 1887 John Stitzlein barn is a massive 40' x 70' basement barn that was moved to his property several years ago and placed on a poured concrete wall. The loft area boasts a new floor of polished t & g sycamore and this wood is also used to excellent effect as interior door and window trim. The exterior wall of the barn was studded and filled with insulation although sons Nathaniel and Matthew Stitzlein believe they would use stretch skin insulated panels on the next project. New fenestration allows adequate light into the loft area without compromising the barn's architectural integrity.
The Stitzleins also disassembled and erected a 30' x 40' English threshing barn. Chuck told me that the barn originally had louvers that the Stitzleins chose not to install due to heating and bird issues. The solution was to use windows and hang the louvers in their approximate locations inside the barn so that they remain available to a new generation of preservationists. This writer hopes the Stitzleins continue to work with barns; to date they have preserved five.
| | |
| --- | --- |
| Barnwrights Nathaniel and Mathew Stitzlein. | English threshing barn. |