It was a snow covered landscape when Chuck and I left Mt. Vernon on Monday, February 2 and drove south to see Gary Curry's 60' x 94' board & batten barn. This ancient barn is impressively sited on a gentle slope above the nearby flatlands, and originally had 30 doors and 47 windows! The cupola, still intact, is 8'square and 12' high.
Knox County has long been a sheep raising area and it appears the barn was once home to a large flock. This is indicated by a plastered, rodent-proof wool storage room and feeding troughs adzed from 50' long chestnut logs. There is also a 20' x 20' brick root cellar where turnips were stored for winter feeding.
The mow area consists of five-bays with two 20' driveways. Each roof pitch features two parallel purlins supported by double canted queen posts. A truly impressive barn!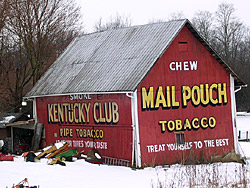 Mail Pouch barn near Newark, OH.
There's an interesting Mail Pouch barn near Newark, OH that we didn't visit but that I was able to photograph. It's unique inasmuch as the painting is red instead of the usual black, blue and yellow, and there are tobacco advertisements on two faces.
The 1819 Poorman barn near Somerset in Perry County is one of the most significant and fascinating barns in Ohio. It is in active use by John and Jim Poorman, the 6th generation of Poormans to farm this land beginning in 1808. During our visit the 7th generation was loading shelled corn and there is already an 8th Poorman generation.
This bank barn's basement wall is constructed of huge dressed sandstone blocks that were quarried immediately behind the structure; the forebay's stable doors are of walnut!
It is the barn's hewn double frame that begs for answers that can only be partially answered. "Double frame" means that virtually every post is duplicated with another immediately adjacent. The Poormans believe the extra set was added when a heavy slate roof was installed. Perhaps overkill, but it certainly makes the barn unique.
Monday concluded with visits to two true-round frame barns, also in the Somerset area. Both barns are approximately 75' across with a concrete stave silo in the center, cupola and obviously a circular arrangement of stalls or stanchions. One barn has a ramp to the loft enabling hay to be unloaded on this level. The second barn is on level ground and it appears the hay wagon was pushed into a space between the stanchions where an opening in the ceiling allowed hay slings to be pulled up to a hay carrier running on a circular track. Both barns had relatively new wood shingle roofs.