Click the image above to see a larger photograph.

In Philadelphia, Pennsylvania Sidney Shupak was better known for pickles than for piano or painting. Few knew of his lifelong passion for wood, his Sunday drives to the country looking for new barns to draw — a life he shared with my mother Frances Horen Shupak. Mom took up art in the last years of her life, two decades after my father had already created a significant body of work in oils and watercolors. Sidney's barns are detailed pen-and-ink drawings that preserve fine architectural details. Mother's barns are more generalized impressions created with water colors.
Dad first showed me his magnificent collection of barn drawings and paintings in the memorable winter of 1994. I had taken refuge in his elevator apartment after having slipped on the ice and broken my foot. Six-foot-high snow piles and a painful third-floor walk-up (on crutches) propelled me to flee my own apartment for a few weeks. Temporarily a prisoner of Dad's living-room sofa, I soon learned he kept these most highly valued artistic creations in a large portfolio resting on the floor, wedged between sofa and end table, within arm's reach of his favorite reading and TV chair. Countless barns and scenes of rural bliss thus occupied the hub of Dad's apartment life, a source of great joy in private moments. These treasures apparently were jealously guarded. Very few people have seen them.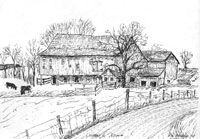 The barn portfolio contains eight 11x15" sketchbooks (four by Sidney and four by Frances) created during the five years of Sundays that preceded Mom's 1980 death from cancer. These barns were "discovered" in the rural counties of Pennsylvania and southern New Jersey that surround Philadelphia. Some are identified by farm name, county or village; others are anonymous. Many are deserted and in various stages of disrepair. Each appears to have vastly different architecture, seemingly created to blend into the rolling hills on which they were constructed. Collectively, these artistic renderings would make wonderful illustrations for a book about barn architecture.
Sidney Shupak's journey from pickle-maker to barn preservationist took nearly 30 years. He was one of four brothers and two sisters who inherited the Louis Shupak Pickle Company from their Russian-immigrant parents. He had met my mother in French class at Temple University and fell hopelessly in love when he first heard her play the piano. She was trained in the classics and could have been a concert pianist, had she not married Dad in 1939. Mother taught music in junior high school and gave piano lessons to private pupils. Dad had had some classical piano training as a teenager but his forte would become self-taught jazz and popular music. He authored the lyrics and music of more than 100 popular songs, some of which were performed in Philadelphia in the 1960s and 1970s at the Society Hill Theatre, the Level II cabaret theater, and Theater Center Philadelphia. Three satirical skits and six of his songs were included in CBS-TV's "Repertory Workshop," nationally broadcast in 1965.
Dad's musical, artistic and literary talents would not be developed until fate and family disagreements liberated him in 1949 from the brutal, 24-hour demands of the pickle business. After a decade of trial and error, he settled on a career as a sales representative for the North American Plywood Corporation. This choice was no accident. Not only was Dad acting out of his secret love for wood, he also wanted a flexible work schedule that would permit him time to pursue the arts. His apartment was filled with wooden sculptures suspended by string from the ceiling to twirl with air currents — works embodying mathematical curves such as the ellipse, the hyperbola and the parabola. These three-dimensional creations grew out of years of experimentation with a genre of two-dimensional painting called Mathematical Operation Art or MopArt. A few samples from Dad's huge collection of MopArt were displayed at Philadelphia's Franklin Institute in 1982.
Sidney Shupak was a wood craftsman, creative cook, poet and writer as well as an artist. His wooden crafts were turned into a 1977 book for young people, Glue It Yourself: Woodworking Without Nails, co-authored with free-lance writer Robert Lasson. It offered step-by-step instructions for using plywood and small-dimension lumber to create trays, sewing and pencil boxes, easels and even an attache case. Dad self-published a cookbook of favorite Shupak family recipes, The Diner-Deli Cookbook, and kept a widower's journal about his adjustment to life after the death of my mother. He was in the midst of writing his memoirs when he suddenly exited this life two months short of his eightieth birthday. Dad was buried next to Mother on July 28, 1997, the same day she had passed away 17 years earlier.
Going through his personal possessions, I discovered that the barn collection had never been moved from its resting place beside the sofa. Dad had resisted my urgings that he seek a gallery to show them publicly. He was content just to gaze on the loveliness of the wooden structures he and Mother drew. He felt pleasure giving everlasting life to abandoned barns in various stages of decay. Although at the end of his life Dad earned supplemental income playing the piano and singing popular songs for senior citizens groups, he rarely sought recognition or monetary compensation for any of his art works. He was happy just to have created beauty out of the natural world, works that would live on after him for the enjoyment of future generations.
Anyone interested in exhibiting Sidney Shupak's barn art may contact me at atyner@vm.temple.edu.

Back to The Barn Journal front page.