It was 2003 when the Freiburgers realized a lifelong dream by purchasing a 160-acre farm—a one-half mile square parcel-- in Southern Michigan. There are 60-acres of farm land, woods and Swan Creek runs through the property for a half mile—an ideal setting for wildlife. The Freiburgers have created 2 ˝ miles of trails as well as three food plots in order to enjoy and encourage the wildlife.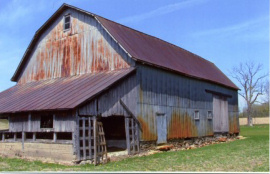 The Project Begins.
The property's house and barn, both dating from the 1890's, were in disrepair after years of tenant abuse. The Freiburgers' first inclination was that the barn wasn't worth saving, but after viewing the hewn timbers Jim admits he and Ann "were hooked".
The gambrel barn measures 40' x 66' with an inside height of 32', and a 20' x 40' shed on the south gable end where previously 10-12 cows had been milked. The original wood siding and cedar shingles were covered with rusted galvanized metal. There was rot in the timber posts and sill. In short, the barn required a full restoration.
While renovating the house in 2004, the Freiburgers wisely began 20-months of research and investigation before engaging well-known Michigan barn wrights, Peggy and Sam Stitt III of Great Lakes Barn Preservation, Inc. to do a ground up restoration.
The Freiburgers were aided in their "due diligence" by joining the Michigan Barn Preservation Network (MBPN), an active 12-year old organization that sponsors an annual barn tour and conference at Michigan State. By now Jim was so committed to the barn project that he interrupted his Florida vacation to return to East Lansing for the MBPN's March 2005 annual conference. The two-day meeting was an opportunity to exchange information with other barn enthusiasts and was a great help in determining the right contractor and receiving feedback on the restoration plan.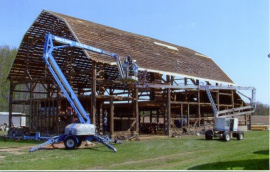 The Frame is Completely Exposed.
Jim counsels other preservationists to carefully plan their project and the choice of contractor. Meet with past clients of contractors and see the contractors' work. Be convinced that the contractor has the right experience especially if the barn is timber framed and the right equipment for working on high steep roofs. Have evidence that the contractor carries proper insurance.