The Van Hoosen Farm dates back to 1823 when Lemuel Taylor, his wife Sarah, and nine children purchased 160 acres of land in Avon Township, now Rochester Hills. When Lemuel's granddaughter, Sarah Ann, married Joshua Van Hoosen in 1854, most of the Taylor farm property was purchased by Joshua and productively farmed until Joshua died in 1894.

Joshua's widow Sarah leased the farm to local farmers until Dr. Sarah Van Hoosen Jones, granddaughter of Joshua Van Hoosen and great-great granddaughter of Lemuel Taylor, assumed operation of the land. After receiving her Ph.D. in animal genetics in 1921, Sarah began running the farm under scientific management.

The Van Hoosen Farm operation consisted of four phases: cattle herd, poultry, milk production and tillable land for crops. Although Dr. Jones started her farm operation by raising one thousand single-comb, white leghorn chickens, she devoted most of her efforts to the dairy operation. Through Sarah's efforts, the original herd of fifty Holstein dairy cows increased until it numbered two hundred in 1944. Every year between 1929 and the 1940s, the Van Hoosen Farm exhibited cattle and won ribbons at stock shows, including the Michigan State Fair, the Wisconsin and Illinois State Fairs, and the Dairy Cattle Congress in Waterloo, Iowa. Van Hoosen cattle became desired throughout the world, and part of Sarah's prized stock was sold to the governments of Venezuela, Costa Rica, and Argentina for breeding programs.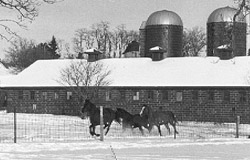 The Van Hoosen Farm was composed of a number of buildings. These included a 101' barn constructed in 1874, an ice house built in 1890, a milk house built in 1911, silos constructed in 1912, a milking barn erected in 1914, an equipment barn built in 1925, and a dairy barn, calf barn and bull barn, all erected in 1927. A number of corncribs, tool cribs and chicken coops also were constructed. Of these buildings, the milk house, dairy barn, calf barn and bull barn remain. The largest building remaining, the dairy barn, was constructed by Dr. Jones as a state-of-the-art dairy building originally designed by the U.S. Department of Agriculture.
Dr. Jones retired from farming in 1952, and management of the farm was turned over to long-time farm manager Morris Place. After the deaths of both Dr. Jones and Mr. Place, the last of the farming operations ended. The last of the prized herd was sold in September 1977.
When Dr. Jones died in 1972, the barns and surrounding property were donated to Michigan State University. Michigan State University in turn sold the barns and surrounding acreage to a private developer. In 1989, however, new ownership was taken up by the Rochester Hills Museum at Van Hoosen Farm.
Most of the large farms in Rochester Hills have disappeared and that is precisely why the City of Rochester Hills is anxious to safeguard this area and the Van Hoosen Farm. The intent is to preserve this pocket of rural America in a rapidly growing suburban area. Currently, the 1927 dairy barn is undergoing restoration during the Museum's adaptive reuse project, with an anticipated opening date of Fall 2001.
The Rochester Hills Museum in Rochester Hills, Michigan, is located in the c.1840 Van Hoosen Farmhouse, home for five generations of the Taylor / Van Hoosen families. The Van Hoosen Farmhouse is located in the village of Stoney Creek, founded in 1823 and now listed in the National Register of Historical Places.
A visit to the Rochester Hills Museum will introduce you to the people, places, and events that shaped the lives of this community. The Museum is located at 1005 Van Hoosen Road, Rochester Hills, MI, 48306, one mile east of Rochester Road, off of Tienken Road, just one mile north of the downtown Rochester area. Admission is $3.00 for adults, $2.00 for senior citizens and students grades 3-12. Hours are Wednesdays through Saturdays from 1 PM to 4 PM. You can contact the Museum by phone at 248.656.4663, by fax at 248.608.8198 or by email at rhmuseum@rochesterhills.org. You can also find more information on the Web at www.rochesterhills.org/museum.htm.