Charles Leik is the Editor of The Barn Journal.

Bali is the idyllic Indonesian island celebrated in Rodgers and Hammerstein's musical South Pacific. It is located directly east of the island of Java where more than half of Indonesia's 205 million population lives. Bali itself is a volcanic island of 2500 square miles and 3 million inhabitants. The distinctive Hindu-Bali culture (Indonesia is overwhelming Muslim) as well as its physical beauty makes Bali an important tourist destination, especially for Asians and Australians.
The island's traditional economy is agricultural with rice being the principal crop. There is an intricate system of irrigation (we would call them water districts) to distribute water to the terraced rice fields at the very time the crop requires it. And more to our point are the famous rice barns in the area around the northern town of Sudaji.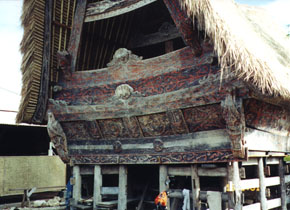 Unfortunately due to time constraints I was unable during a February 1999 visit to inspect the larger and still functioning barns. However, I did find a deteriorating barn located near the city of Denpasar. That particular barn has fallen into disuse due to urbanization (sound familiar?).
I was saddened by this, but only a kilometer distant I visited a man who is reassembling traditional barns that he has brought from his home town on the huge island of Sumatra, perhaps 1000 miles distant from Bali. The photos you see here are of a traditional Sumatran house already re-assembled. You can note the bamboo "rafters" that support the roof of thatched palm fronds. Nearby is a neat pile of teak timbers that will soon re-emerge as a barn.
It is encouraging to learn that in the midst of Indonesia's present severe economic and political turmoil traditional barns and houses are being preserved. This experience in Asia coupled with recent correspondence with European preservationists lead me to the conclusion that the Michigan Barn Preservation Network's goal of "increasing the appreciation and preservation of vernacular rural architecture" is worldwide!

Back to The Barn Journal front page.