Our Family Barns

By Grayden Slowins
Grayden Slowins, Lake Odessa, MI is a sheep farmer, township official, genealogist and historian.
He is the editor of The Sebewa Recollector, a bi-monthly publication of local history.

Martindale, PA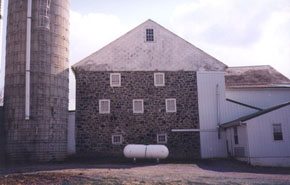 The oldest barn still in existence in our family is that of my Mennonite relatives at Martindale, Lancaster County, PA. A stone barn built by Joseph and Elizabeth Zimmerman Wenger in 1797, it has been well-maintained and added to, and cows are still milked there daily. Also, teams of horses call it home, along with a black buggy, a John Deere tractor with steel lugs and a spring wagon painted John Deere green and yellow. The "new" house, also of stone, was built in 1800 to replace the old structure in which Joseph was born in 1769. They were my great-great-great grandparents. Joseph's sister Elizabeth Wenger married Elizabeth's brother Christian Zimmerman, and when Elizabeth Zimmerman Wenger was widowed, she sold the farm to Christian and Elizabeth Wenger Zimmerman, so that the current owners are my fifth cousins.
| | |
| --- | --- |
| | |
| The side doors of the stone barn in Martindale, PA. | Barely discernible is "JW" and "1797" chiseled into the stone. |
---
Groffdale (PA), Martin's Corner (Ontario), and Caledonia Township (MI)
The second oldest barn on the nearby farm at Groffdale, PA of our five times great-grandfather, Christian Wenger, who emigrated from Switzerland in 1727 was replaced "new" in 1811. It is also largely built of stone. The foundations of the old barn are nearby. My contemporary Noah Wenger sold this farm to a non-relative, John Beiler about 1970.
The third oldest barn is a little unpainted wood barn built for widow Elizabeth Zimmerman Wenger after she moved with her family from Martindale, PA, to Martin's Corners, Waterloo Township, Ontario in 1825. The stone house and white wood church are also still standing.
The fourth oldest barn is that of great-grandfather Christian G. Wenger in Caledonia Township, Kent County, MI. It is a wooden barn in the Mennonite style built on or before 1870. The land is now a golf course.
---
Sebawa Township, MI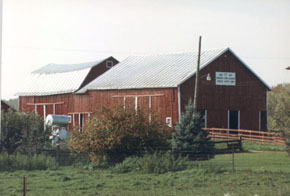 The fifth oldest is our own barn in Sebewa Township, Ionia County, MI built in 1870 for John C. Olry, son of first settler John F. Olry. The foundation stones for John F. Olry's first barn, probably built of logs soon after 1849, are still visible. The "new" barn is a 36' x 50' timber frame building designed to house horses, hay and grain. Bill Caswell an elderly neighbor, who died in 1964 at 99 years, 11 months and 23 days, was a "nail carrier" at the building of this barn at age six. Square cut nails were so valuable that small boys were set to follow the carpenters and recover every nail dropped. In 1963 this barn was put on a new foundation.
The newest Olry barn was built in 1882 as a cowbarn. It has a plank frame rather than timbers, and is more bowed than its proud older relative.
These barns initially had a crude system of ropes and pulleys to get the hay up into the mows. Then a hay track, car, and locking hayforks were installed in the early 1900s. Conversion to baled hay and elevators came after World War II, and about 1990 we installed conveyors suspended from the old hay track.
---
Odessa Township, Berlin Township, and Campbell Township (MI)
Great-grandpa Frank Lehman's barn in Odessa Township, Ionia County, MI is next and was built in the early 1880s. It is a gambrel-roofed barn with a full stone basement and barn grade.* Now owned by the Tom Wilson family, it has been well-maintained and was used for milk cows until recent years and now young stock.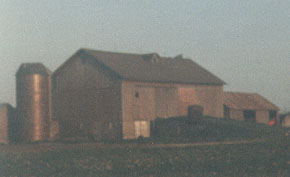 The next oldest barn is probably that of great-grandfather Christopher Slowinski, built in 1888. A timber-framed barn with thick cut-stone foundations, it has a barn grade to double drive floors, and was built entirely by Chris, who was a stonecutter, and his brothers. The basement measures 40' x 75' and has ample room for horses, milk cows, young cattle, and especially sheep. The upstairs has a nice granary and hay mows for loose hay with a hay track in the peak and a hay car with locking forks to raise hay to the mows. This was also Grandpa Dan Slowinski's barn. This barn is in Berlin Township, Ionia County, and is owned by the Ed Eldridge family, descendants from Chris' brother Louis.
Great-grandfather Abraham Brake's barn in Campbell Township has been raised and put on a new basement, but was probably built in the 1880s because it was not new when he moved there just before 1900. Mother was the first baby born in the new house. Long owned by the Roy Tasker family, then Richard Rosenberger, it now belongs to David and Carol McCaul.
Grand-dad John Brake's barn also in Campbell Township was raised and set on a new stone basement in 1913, the year after he moved there. It may have been built originally before some of those above. It is timber-framed, with a nice granary and hay mows upstairs. It has always had whitewashed box stalls for Belgian draft horses, milk cows and sheep. Today it shelters llamas!
---
* The grade or barn approach is a ramp of earthen fill to enable wagons and horses, now tractors, to reach the second level. The flat terrain of the Midwest allowed few bank barns.

Back to The Barn Journal front page.