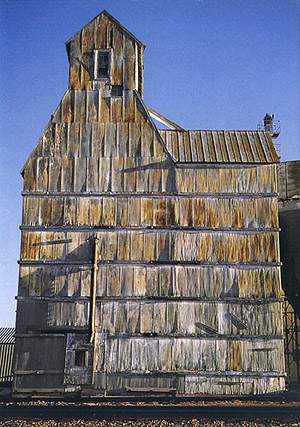 Above: The once-shimmering metal siding of this Shields, Kan., site has been overtaken by decades of aging and rust.

Above left: The elevator in Vandalia, Mont., today is a mere wooden shell of a rural business center from decades before.

Whether towering boldly on the Great Plains or nestled in the rolling Midwestern hills, grain elevators have served for generations as symbols of rural partnerships and agricultural heritage. As transportation and architecture evolve, these monuments, along with the history that lies within their aging walls, are becoming extinct.

Through photographs, documentation, and the establishment of a historical society, Bruce Selyem and his wife, Barbara, of Bozeman, Mont., hope to capture the essence of these vanishing giants and preserve their legends for generations to come.

Although Selyem doesn't have an agricultural background, he's always been at ease with nature. Born in Cleveland, Ohio, he moved to East Glacier, Mont., when he was 18 years old.

"I did whatever I could to live in East Glacier and have the ability to get up in the mountains to fish, hike, and climb," he explains.

An interest in photography led to his stumbling across his soon-to-be passion. "I moved to Bozeman in '84, and I was going to Montana State University to get a degree in photography," he says. "One evening, when I was coming back from a camping trip, there was an incredible stormy sky, and I stopped to take a picture. I set the camera on a fence post and took a photo of a building. I eventually learned that building was a grain elevator - I had no idea. It was something there to take a picture of with the sunset and the storm. It was pretty dramatic. It was a subtle beginning, but that really was it."