City honors Leiks for renovating Red Mill
By Tom Thelen, October 2001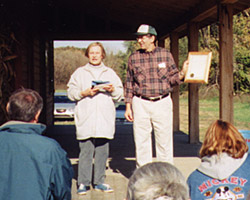 Mayor Marion Hilligan presents the Portland Pride Award to Charles Leik at The Red Mill dedication.

A piece of Portland's agricultural history was officially rededicated by city officials last week.

The Red Mill, formerly known as the Portland Co-operative, was dedicated at a ceremony on Oct. 20 at the Water Street site. During the ceremony, Portland Mayor Marion Hilligan presented the second Portland Pride Award to Charles and Edward Leik for their work to restore the structure and bring back some of its former glory. Charles Leik accepted the award on behalf of his family while Edward was unable to attend.

"I am glad that the job is done," said Charles Leik. "This has been a three and a half year journey from first coming up with the idea to restore the building until now. It was March of 1998 that we first took a serious look at the project. We talked about it and got approval from city officials and started working on it in the spring of 1999. From there, we just kept working on it until finishing it this year."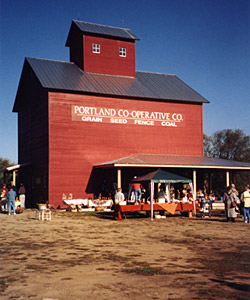 Farmers' market at The Red Mill

The Leiks interest in renovating the Red Mill grew from their father George's involvement in the Portland Co-op.

"My father was on the board of the Co-op for six years and spent most of his adult life there," said Leik. "Back then, families bought coal, sold grain and had their animal rations ground at the Red Mill. It was the focal point of activity in town. The railroad was there. People bought their coal there and sold their grain there. There were a lot of people involved with the Co-op. The goal of my brother Ed and myself when we started this project was to again make the Red Mill a focal point of activity in the community."

The first steps toward making the Red Mill a community gathering place have already taken place. A weekly Farmer's Market, organized by Rosemary Neller and Madeline Frank, concluded its first season of operation on Oct. 20 with a special Octoberfest celebration. The market drew plenty of attention for only its first year of operation.

"We did very well for our first year," said Neller. "We had 21 vendors who came out at various times that we held the market and we have had a good number of people come out to look at the items and make purchases. Madeline and I are already making plans for next year."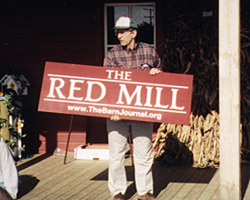 Charles Leik displays The Red Mill Sign
October 20, 2001

"The Farmer's Market that Rosemary and Madeline have started is in line with the goals that we had for the site," said Leik. "I think they have the beginnings of a bigger Farmer's Market in the future. Plus, with the River Trail going through that area, I see the Red Mill as being a place for people to meet and walk the trail or come out for the various farmer's markets or possibly flea markets in that area."

While the renovation of the structure is complete there are still a couple of additions to be finished.

"We are planning on installing floodlights to light the Co-op sign at night as well as security lights and other electrical outlets to support the activities that take place there. Plus, we have 100 strands of Christmas lights that we plan on placing on the structure to outline the head house and the south side of the structure. We probably will not get them all up this year, but eventually they will be up."

Posted October 4, 2002