Mill revival promises
striking structure and beautiful blooms
By Nan Simons, August 1999
Patience. Universal wisdom calls it a virtue. When planting wildflowers and restoring aged buildings, it's more than an attribute — it's a necessity!
In the greater scheme of things, it appears the Water Street Mill will come to fruition quite quickly. After straining our eyes for years, staring at the disreputable mess left by Countrymark, it's certainly a pleasure to see things shaping up at the mill.
I've been playing a good game of telephone tag with Charles and Ed Leik whenever they've visited Portland. I finally decided to employ technology and it worked quite well. Not only did I manage to meet with Ed at the site last week, but I also raised Charles halfway around the world.
I'm a new e-mail user, so I was very impressed to find such a missive by Charles Leik had traveled all the way from Jakarta, Indonesia, to my office Mac. He remarked he's had no status report for a few days, but notes the mill rated all new siding, an entire new roof, and the site has been recently graded.
By replacing all the siding instead of reclaiming much of the old wood, maintenance of the building should be nil for several years. The boards sport two coats of Cabot stain on the weather surface and an additional coat on the back.
When Charles and Ed noticed how nice the "head house" (the small square at the top of the building) looked, they opted for new siding all around the core building. The new "tin" roof isn't really made of tin, but of some special amalgam that should last a lot longer and look a lot better in years to come.
Although original plans included restoration for the north addition, condition of the structure precluded any repair efforts. The addition has been removed and now lies in a rather tidy heap on that end of the site. Council agreed earlier this year to dispose of the rubble, mostly wood planks and scraps, by allowing the fire department to test its skills with a controlled burn.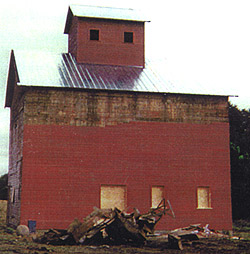 South View: This will be the new principal face. Door and windows are studded in. — August 1999
Removing that part of the overall structure is a mixed blessing. The cost savings does result in more dollars to invest in construction of a wrap-around porch next spring. This part of the project really adds to the character of the building and makes it accessible for public use.
"We really envision the mill as a place where people can meet and gather along the trail," says Ed. "The porches will be set at a comfortable, accessible height and we're looking at creating ramp access on the south side of the buildings where the grade is less steep. They'll be deep enough for use by the community to house a flower sale for Wildspaces or maybe a farmers market. We need to wait until next spring to do the work because the area needs to settle."
Water Street Mill should be buttoned up for the season by mid-September. Once the siding is completed, all that's left is installation of windows and doors. Basement openings have been secured with screen frames to deter unwanted wildlife residency. The Leiks may clean the interior this fall or wait until next year to do that dirty work. They plan to leave the interior in "show" condition, allowing folks to look in the windows and see the mill works.
Charles promises me a more detailed account of the project sometime in September. You can be sure I'll pass that information on to our readers.
Now about those wildflowers… Folks are asking me why the site is so weedy. Well that's because it's filled with weeds — not wildflowers. Construction at the mill and our early summer drought forced Wildspaces members to make a tough decision. Crop Production Services has been very helpful in spraying the site for us, but we had to let it revert to weeds for the summer.
Remember what I wrote about patience? We were so anxious to get out there and plant that we almost wasted a lot of precious seed and city funds. Luckily, patience prevailed. We'll be spraying again this fall and plan to seed heavily in October with perennials and a nice mix of annuals for seasonal color. Wildflowers actually give a better performance if permitted to winter over. Our hope is spring rains will nurture seedlings strong enough to survive any dry spells next summer.
I've heard some comments about the memorial site along the Portland Riverwalk and the demonstration plot at city hall. Wildflowers have their own agenda. You just can't expect immediate gratification — that's why God created annuals. The native species we're introducing are perennials. Here's a simple way to understand how these plants grow and develop: First year they sleep. Second year they creep. Third year they leap. Fourth year you reap.
We've been hand-weeding the demonstration plot and did do a raised mowing a couple of weeks ago. It's just not practical to pull some weed species the old-fashioned way. If you mow them (at a height of about five inches) before they go to seed, you can virtually eliminate them as an invader at that site next year.
Supplemental seeding is planned for the demonstration plot and for the memorial site this fall. The Harry Doehne plot requires some limited soil augmentation and we'd like to put "plugs" (young plants) around the stone once it's been engraved or a plaque has been placed, whatever members decide is appropriate.
We'll also be spraying the Portland Middle School living laboratory site before school starts. Hopefully, those kids will have a chance to prep the soil and plant seed this fall. Our education program is gearing up to offer classes at parochial and public schools. We're hosting a special six-hour seminar for teacher representatives from local schools and our own membership. Via certification though Michigan United Conservation Clubs participants will be able to share their love of the natural world with youth in grades K-8.
Wildspaces is growing-literally! W've been very fortunate to have the financial support and appreciation of Portland City Council. We've been equally blessed with receipt of two wonderful grants in our fledgling year of operation — one from MDNR for $5,000 and one from TRW Foundation for $2,500.
Have faith in nature. Be patient and modest in your expectations for a couple of seasons. Give us time and we just might be able to reward you with enough beautiful blooms to earn Portland the unofficial title of Wildflower Capital of Michigan.
Posted November 18, 2001