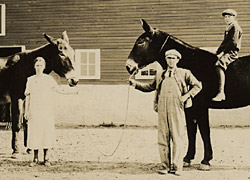 Libka Family 1916-18:
Lon and Lena Libka, and son Leo.
Shelley Libka Place is the third generation to own and operate the cattle farm established by her grandfather Lon Libka. It was Lon who built the two gambrel roof barns on his farm a mile north and a mile east of Homer after settling on the prairie of east central Illinois in the early years of the 20th century.
Lon and his son Leo were in the cattle business all their lives. In addition to a cow-calf herd and feeding steers to market weight on their farm, the Libkas purchased livestock at auctions held in the barn and shipped them 150 miles north to the famous Chicago stockyards. In these days the sign on the gable end of the barn read: "Lon Libka, prop. Salt Fork Stock Exchange." Salt Fork is a nearby river.
Until after World War II livestock shipments were by rail, then semi trucks came to dominate livestock transport. The Chicago stockyards closed in the early 1970's as packing houses were located closer to the source of livestock. Shelley's father Leo retired from the cattle business in 1980 (d.1994) and until recently the cattle barns were unused. That was a change from when Shelley was growing up; then the barns were always full of hay, cattle and lots of activity.
| | |
| --- | --- |
| Aerial View of Salt Fork Ranch circa 1950. | The barn before restoration. |
It was 2001 when the Places, in partnership with Bill Routh, expanded into cattle raising that they decided to repair and paint the barns, raze derelict buildings and old fencing, and build new fence. The site was cleaned up in 2002 and five miles of new high tensile fence constructed in 2003.

Dismantling buildings and clearing the site.
The Hooker brothers from nearby Sidell and Indianola helped restore the barns. Twenty-six gallons of red paint and 10 gallons of white paint were required to paint the barns that measure 120' in length and 32' wide. The paint was applied by brush: it has never been spray painted as Shelley believes hand application results in better adhesion and control.
The barns' first floor is open for cattle shelter and equipment storage while the loft is used for small hay bale storage. The Places also use large round hay bales because they shed rain and snow can be stored outdoors for winter feeding.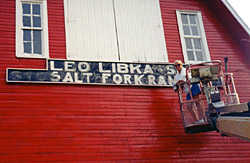 Shelley Libka Place painted the trimwork.
Shelley and husband Gary Place farm 2000 acres of corn and soybeans in fertile Champaign County in addition to the new livestock enterprise. It's obvious that the restored heritage barn and livestock are a satisfying part of their overall operation.
Shelley and Gary Place can be contacted at shelley@prairieinet.net.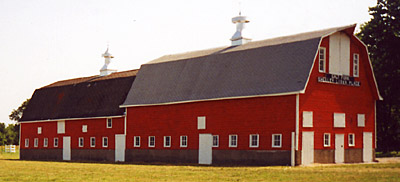 The restored Libka barns.
Posted January 28, 2004.