Click the image above to see a larger photograph.

Author's Note: We are indebted to Bob Neier, Wichita, Kansas for supplying this information. Bob, a Kansas State University County Extension Agent specializes in community development, solid waste management and horticulture. He was raised on a farm adjoining the Fromme-Birney barn and remembers as a child seeing the sun rise over the barn a half mile distant from his bedroom window.
Bob was active in the restoration effort and indicates the group was inspired by previous community efforts to rescue barns in Rooks county, Kansas and Arcadia, Oklahoma. Bob hopes that the efforts of his group will likewise encourage others to protect these architectural wonders for future generations. All photos are by Bob, Evelyn and Lois Neier.

A Successful Citizen Preservation: The Fromme-Birney "Round" Barn
The Fromme-Birney "round" barn is located at Mullinville in Kiowa county, Kansas which is in the south central part of the state and southwest of famous Dodge City. Purists would say that it isn't "round" but a 16-sided polygonal. Assuming for convenience that it's round, the diameter is 70' and the height 50' although on the flat, treeless Kansas landscape devoid of references, it appears smaller until you are close by. Often round barns had a silo in the center but in the Wheat State this became a 16-side granary 16' feet in diameter. This was one of approximately 20 round barns that were built in Kansas. (For an explanation of the advantages of round barns, please refer to Efficiency of the Round Barn under The Barn Journal's Round Barn section.)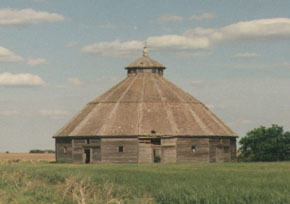 The barn was built in 1912 by William "Pat" Campbell IV, to house Henry W. Fromme's 28 draft horses that included a registered Percheron stallion imported from France. Fromme was an immigrant from Langenholzhausen, Germany who reportedly arrived in Kansas with less than a $1. It was owned by Fromme and then his son Moritz until 1954. In that year J.W. Birney purchased the property at auction and later bequeathed it to son Lawrence Birney,. Other owners were Lawrence's wife, Phyllis Birney and finally the Kiowa County Historical Society.
Due to the efforts of Phyllis Birney, the barn was listed on the National Historic Register in 1987 because of its unique architecture. The photo gives an idea of the unusually complex framing, even for a round barn. The sixteen sides converge at the roof apex forming an intricate pattern of angles. The Hutchinson News of November 24, 1996 reported that Pat Campbell (1874-1946), a cabinetmaker by trade, cut every rafter member with a hand saw using only a framing square to compute the angles necessary to make the 160 2 x 6s converge accurately on the cupola.
The hayloft floor was likewise a work of art. Four inch tongue and groove lumber was laid parallel to each of the 16 sides and they converge in the center like giant pie wedges. Total cost of the barn in 1912: $12,000.
While architecturally significant, by 1994 the structure had a leaking roof, rotting siding and missing doors and windows. In short, its days were numbered unless repairs were made.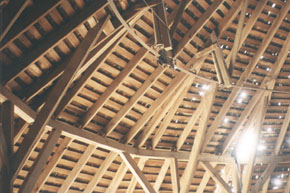 Phyllis Birney of Boca Raton, FL who as a new bride first saw the barn in 1970 said, "..it's an architectural gem, a part of Americana, it has to be preserved". She received it for her 15th wedding anniversary and it was at this time that she began plans to save the building. In 1993, Mrs. Birney donated the barn to the Kiowa County Historical Society and that group began a $20,000 fund raising campaign to qualify for an Heritage Trust Fund Grant of $80,000 from the Kansas Historical Society. Ultimately $21,000 was raised from a direct mailing to all Mullinville High School alumni and selected businesses. As a result a $75,000 grant was received from the Heritage Trust. The Society directed that all donations be sent directly to First State Bank and believe this gave the preservation effort added credibility.
At the same time as the appeal went out newsletters were sent to the local press. During the renovation phase periodic issues of Round Barn News were sent to supporters. This generated excitement and commitment that was rewarded with additional donations.
Actual restoration began in 1995 and the first job was for volunteers to muck out the barn and control the dust by covering the dirt floor with ground asphalt from a nearby highway construction site.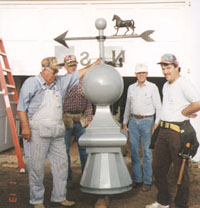 The father and son team of Jerry and Jeff Koehn used 63 squares of shingles (a "square" is 100 square feet) to resurface the roof. In the original construction thousands of tin ridge caps, each molded with the impression of a sunflower, were used to protect joints where all the roof sections came together. They were replaced by new ones made by the same Nevada, Missouri firm that made the originals. Many of the discarded original ridge caps were painted with flowers and sold for fundraising.
The weathervane is a notable feature. It had been damaged by 80 years of Kansas summer heat and winter storms, and used for target practice. A special contribution from the Fromme family paid for the $2500 replacement.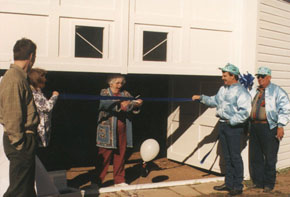 The restoration was completed in fall 1995 and the following May, Fern Fromme, whose husband was the grandson of both carpenter Pat Campbell and original owner Henry Fromme, celebrated her 80th birthday there with a few hundred friends. Fern says "I hope future generations won't forget this kind of architecture, I see things today in a different way than I did many years ago."
In summer 1996, Henry Fromme's great-great grandson Eric Christopher was married there. The Historical Society hopes these affairs are just the beginning and that the barn will become a center for such community social activities as reunions, auctions, craft shows, agricultural displays and potluck dinners.
Organizing Community Activity
Bob Neier provides the following guidance on organizing community development:
Contact the owner and learn of their interest in a restoration project.
Identify the skills needed to undertake the project. Each committee member must bring a skill to the effort. Bob reports that they were fortunate in having Paula Davis, Chair of the Kiowa County Historical Society, in charge of the Fromme-Birney Committee.
Collectively the committee needs community leadership experience, contacts within the school and business community, an interest in local history, hands-on restoration skills, experience with grant proposals, and newsletter writing skills. It also helps if the members have financial resources or know those that do!
Civic support was developed through such fundraising efforts as tee-shirt and mug sales, news releases, and allowing weddings and dances in the barn. Keep the community informed so that support will continue.

Back to The Barn Journal front page.