Little did he know that this one chance photo would lead him 16 years later to an accumulated collection of more than 30,000 grain-elevator photos from more than 1,700 sites in 23 states and provinces.

In 1990, Selyem set his sights to seeking out grain elevators on the Montana countryside. With an antique map of railroads and towns no longer on contemporary maps, he began his journey. At sites where the map led, he met locals who would point him to others not documented.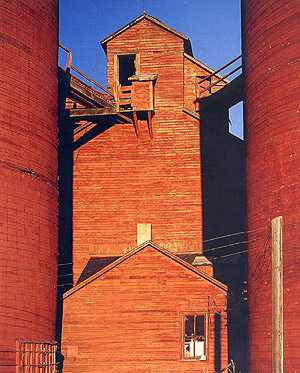 Above: The town of Toston, Mont., awoke one October morning to the sounds of machinery leveling this elevator and its bins.

Above left: What better place to view the prairie surrounding Rapelje, Mont., than from the headhouse of an abandoned elevator?

After compiling quite a collection of Montana elevator photos, he was approached by a writer with a book idea. Realizing his scope should encompass more than Montana, Selyem began an out-of-state journey. To date, his traveling has led as far south as New Mexico and the Texas panhandle, east to Illinois and Manitoba, north to High Level, Alta., which houses the northernmost elevators in Canada, and west to the state of Washington.

Because he also kept a full-time job, Selyem would often travel locally on weekends, venturing farther on vacations. "I'd go back to places, and they'd be gone. They had been knocked over and burned," he recalls. "That saddened me - that these objects of beauty, worthwhile for me to go back to in another season, were disappearing. We were losing part of our history."

It was also difficult to obtain information on some elevators he photographed, as many people who lived their history were deceased. "Along with them go history and information only that person would have," he says. "It was that loss that prompted me to establish the historical society."