The interior also contains a granary alongside the drive-through as this was where threshing of grain was done before the era of the combine began in the 1940's. Also located here were two draft horse stalls and the bottom of a hay chute through which feed was pitched down from the mow for winter feeding.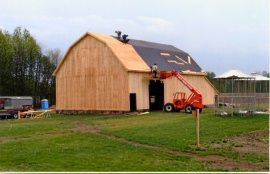 Installing Roof Sheathing.
The Freiburgers carefully planned the lighting to fit the barn's new adaptive use—a family social center and a wildlife viewing site from platforms located high in the loft. The main floor features 42-100 watt lights in eight dimmer zones, the loft, 16-90 watt flood lights with two zones of dimmers and the exterior two-90 watt flood lights over the main entrance and a light activated mercury vapor at the barn's rear.
The culmination of two-years of planning and execution was the October 15, 2005 barn warming for 85 family members and friends. The bar was in a horse stall, buffet tables lined the granary wall and the music was staged at the far end of the drive-through with dancing between the two-lofts. Clear skies, a full moon and balmy temperature made this evening a perfect beginning for the Freiburgers "new, old" barn.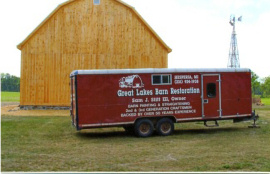 Board and Batten Siding; the Windmill has since been Repaired and Repainted.
The Board of the MBPN concurred with the outcome of Jim and Ann's effort to produce an attractive "new, old" barn and in March 2006 presented the Freiburgers a co-award in the "Continuing Agricultural or Adaptive Family Use" category.
More photos during and after the restoration
Posted September 18, 2006